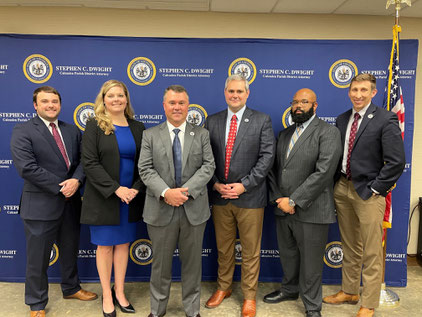 Today, District Attorney Stephen Dwight announced the formation of the Special Victims Unit at the District Attorney's Office.
           After realizing the steady increase of Domestic Violence and Sex Crime cases in Calcasieu Parish over the last ten years, it was clear that specialized attention and care for the victims of these crimes was needed.
"We are constantly evaluating our office and seeing the areas that need improvement. "says Mr. Dwight, "The SVU team consists of team members that are specialized in Domestic Violence and Sex Crimes cases which will ensure that victims of these crimes are getting the attention and care needed to heal and navigate through the criminal justice system," said Mr. Dwight.
           The SVU team is led by Section Chief Hope Buford, who has the experience and specialization needed for this job. "It has always been my top priority to make sure victims of crime are getting the care they need, and with the SVU team, these victims will get just that." Says Mr. Dwight, he continued, "I want our office to be the best in everything we do, which is why we will be sending the team members of the SVU team across the country for specialized training." Mr. Dwight ended with, "The SVU team has been a vision since before I took office, and after evaluating our team members and seeing their accomplishments, I am happy we were able to create the SVU team quicker than we thought we would."
            Below is the structure of the Special Victims Unit:
            1 Section Chief Assistant District Attorney
            2 Assistant District Attorneys
            1 Trial Assistant Team Leader
            2 Trial Assistants
            2 Victim Assistance Coordinators