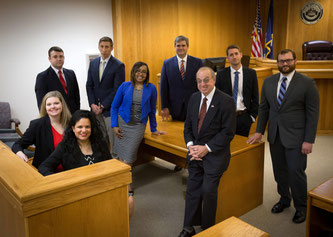 Prosecutors, said Calcasieu Parish District Attorney John DeRosier, are ministers of justice and warriors for victims. The young felony prosecutors of the D.A.'s Office have taken that role to heart.
"They are dynamite. They are aggressive, smart and professional. They are eager to do good things, and they understand what public service and protecting public safety is all about," said DeRosier.
"And I'm really proud of them."
The group, he said, doesn't have many years of felony trial prosecution experience under their belts, but they have been benefitting from the mentorship of some of the best prosecutors in the state, both from within the office and outside it.
"They are, by far, some of the most experienced felony prosecutors in Louisiana. Many of them have several hundred felony trials under their belts and have been doing this for a long time," DeRosier said.
"They are extremely wellqualified and well-trained professionals, and I am really fortunate to have them."
He said the young prosecutors, many of whom moved into the felony division after serving for a time in misdemeanors, have been working on things such as screening cases, case flow management, trial prep and jury selection.
"Some of our divisions have 300 to 400 felony cases right now," DeRosier said. "We are trying to get a handle on all those and are bringing those numbers down fairly quickly."
He also said that there has been a dramatic increase in the number of jury trials.
"The criminal justice system is moving along very well in Calcasieu Parish," he said.
"Our judges are on board with us. Our public defenders are working well with us. The end result of all that is that our community is safer."
Alexandria Police Chief Loren Lampert, a former longtime prosecutor, is one of the mentors. He took some time off as chief to assist DeRosier and his attorneys.
"The (young prosecutors) are about justice and about making sure that what they do stands for something," he said.
"They are enthusiastic and committed to doing the right thing and to learning the right way to do it."
Lampert said the most valuable thing he and the other experienced prosecutors can offer to the young attorneys is to share with them the mistakes they have made.
"Everybody is just trying to get a story told to 12 people in a courtroom and make sure that the victim has their day in court and that justice is done," he said.
Lampert said it has been refreshing to have experienced attorneys on board who have been through "thousands of cases" and to view cases through a young prosecutor's eye.
"We think sometimes that we have seen everything there is to see," he said. "But then realize we haven't."
DeRosier said that the situation has worked out well for the mentors, some of whom are retirees, as well as for the young prosecutors, whom he said are "soaking up all these years of experience compressed in a short amount of time."
"And they are learning very quickly," he said.