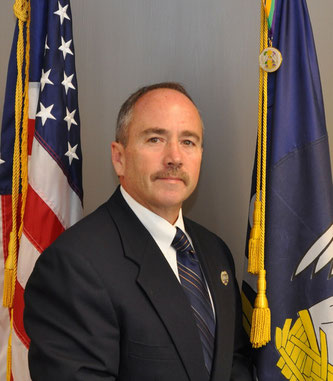 Calcasieu Parish District Attorney John DeRosier has named Loren Lampert as Administrative First Assistant District Attorney.  Lampert, a former prosecutor and most recently former Alexandria Police Chief, joins the staff to concentrate on training, mentoring and assisting with felony cases. 
Lampert is from Alexandria, Louisiana, and is married with four children.  He graduated from Louisiana College and received his Juris Doctor from Oklahoma City University in 1996, graduating magna cum laude.  Before law school, he began his career as a Deputy Sheriff with Rapides Parish Sheriff's Department and was also a Police Officer with Alexandria Police Department.  After law school, Lampert was an Assistant District Attorney with Rapides Parish for 13 years and was assigned Chief Felony Narcotics Prosecutor.  In 2011, he became Chief of Police for the Alexandria Police Department, where he served until joining the Calcasieu Parish District Attorney's Office.
Lampert has been named as the Louisiana Narcotics Prosecutor of the year, he is a board member of the LDAA, a member of the NDAA, member of the Red River Delta Law Enforcement Planning District, Cenla Family Justice Center Board member as well as a frequent lecturer and trainer for crime related topics.