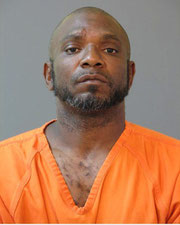 On April 26, 2017, a Calcasieu Parish jury found Dwayne A. Sylvester, Sr., Guilty of Attempted Second Degree Murder. 
 On February 18, 2016, officers with the Lake Charles Police Department were called to Memorial Hospital to speak with a victim of a stabbing.  When they arrived, they found the victim, Gerald Carter, suffering from a stab wound to the neck and torso.  The investigation revealed that Carter and his friend had been at the Easy Aces Casino located at 1825 I-10 Service Road, in Lake Charles, Louisiana.  Sylvester entered the casino and began a verbal confrontation with the victim.  Surveillance video showed Sylvester and the victim walked outside, where the altercation turned physical and Sylvester took out a knife and stabbed the victim.
The Lake Charles Police Department was able to make an arrest based on the witnesses and victims statements.  Detective John Russell was the lead detective, and was assisted by Detective Larry Newingham.   
Assistant District Attorney Hope Buford prosecuted the case for the Calcasieu Parish District Attorney's Office.
Sentencing is set for May 22, 2017, before Judge Clayton Davis.