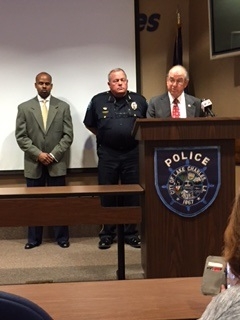 The Lake Charles Police Department, Mayor Randy Roach and District Attorney John DeRosier held a joint press conference today regarding the shootings on Tulip Street on April 6, 2017.  
According to Chief Don Dixon of the Lake Charles Police Department, the four people shot in the 2000 block of Tulip Street on April 6 were innocent victims caught up in someone else's quarrel.
The altercation began on Rose Street in Lake Charles, and concluded on Tulip Street in an barrage of gunfire that resulted in the death of Cody Lastrapes and injuring three others.
JKristopher Demond Scott, 19, is charged with one count of second-degree murder,  with a bond set at $750,000. He is also charged with three counts of attempted second-degree murder with another bond sent at $250,000.
A 16-year-old juvenile is also charged with second-degree murder in Lastrapes' death.
District Attorney John DeRosier said the 16-year-old will be charged as an adult.
"We had 79 shell casings in the street," Dixon said. "This is not Baghdad, this is Lake Charles. This is not supposed to happen here.  Anybody that would shoot into a car is a coward, a thug, a punk," Chief Dixon said.
Calcasieu District Attorney John DeRosier addressed the community today and said that this is not conduct that we will tolerate on the streets in Calcasieu Parish.  "We are going to prosecute these individuals to the fullest extent of the law.  We have to do that to demonstrate that this is not acceptable conduct here and we are going to do it.  And we are not going to take any prisoners.  We are going to go after everybody involved.  But at the same time,  as a community,  we need to try and figure the root causes of this to educate our way out of this.  That's what's going to have to happen."