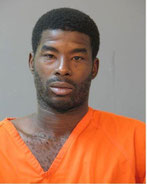 On March 24, 2017, Ali Lee Barconey, 33, was found Guilty of Second Degree murder in the 2014 death of Nathaniel Reynaud. 
          On September 25, 2014, officers with the Lake Charles Police Department were dispatched to a home on Allen Street in reference to shots fired.  When they arrived, they found the victim fatally injured.  Another victim at the scene had been shot in the face but survived, as well as a third victim who was treated for minor injuries. 
          The Lake Charles Police Department investigated the case. 
          Assistant District Attorney Charles Robinson prosecuted the case for the Calcasieu Parish District Attorney's Office.
Sentencing is set for April 10, 2017.  Barconey is facing life imprisonment without benefit of parole, probation or suspension of sentence.