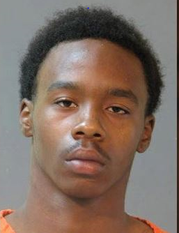 On February 23, 2017, a jury returned a guilty verdict for all counts against Javonta Jermel Harrison, age 20, for Aggravated Rape, Aggravated Burglary, and Armed Robbery with a Firearm. 
      On August 14, 2015, officers with the Lake Charles Police Department, were dispatched to St. Mary Drive, Lake Charles, La., in reference to report of a burglary and rape.  The defendant, Harrison, gained access to the victim's residence, while she was sleeping, by pushing a window air conditioning unit into the residence. He then entered the residence and forced the victim to have sexual intercourse with him at gunpoint.         
      Upon leaving the residence, Harrison took the victims bank card, cell phone and the keys to a vehicle belonging to her boyfriend. 

      The victim was able to run from the home and gave law enforcement a description of Harrison.  Harrison was located near his residence and the victim positively identified him as her assailant.  Harrison recorded a portion of the rape on a cell phone camera, which was located and taken into evidence.
          Lt. Kevin Kirkum and Detective Joe Savoie with the Lake Charles Police Department investigated the case and Assistant District Attorney Jacob Johnson prosecuted the case for the Calcasieu Parish District Attorney's Office. 
      Sentencing for Harrison is set for March 15, 2017 at 9:00 am.  Harrison is being held without bond until his sentencing date. 
---