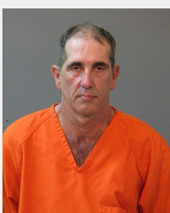 On January 9, 2017, Ronald Wayne Harrington, 48, pleaded guilty to one count of Possession of  Pornography Involving Juveniles.  Judge Guy Bradberry sentenced him to 15 years at hard labor with the Louisiana Department of Corrections, as recommended by the State.  After release, Harrington will have to register as a sex offender for 25 years.
       The Louisiana State Police was conducting investigations into the sharing of Child Pornography files, where it was found that Harrington had downloaded several files involving illegal child pornography images and video files.  Harrington admitted to being responsible for the downloaded files.
       Investigator Michael Hebert handled the case for the Louisiana State Police.
      Assistant District Attorney Jacob Johnson prosecuted the case for the Calcasieu Parish District Attorney's Office.