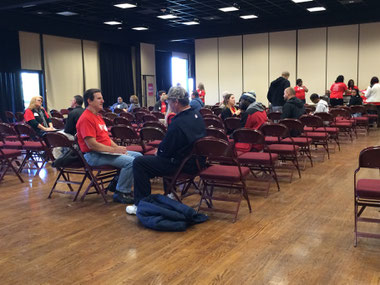 On January 13, 2016, the first Calcasieu Parish Fresh Start Initiative event will be held at the Lake Charles Civic Center.  Over 200 people are expected to be in attendance.
The Fresh Start Initiative is a joint endeavor between the Calcasieu Parish District Attorney's Office and many other collaborative partners across the community. The program is designed to offer non-violent offenders a new chance at their future. It will allow community members to move towards a better future for themselves and their families.
"It gives the citizens the opportunity to cleanse their record of crimes they've been convicted of earlier in life," said District Attorney John DeRosier.
The program, which was instituted in early June 2015, will operate alongside other community organizations. One of the vital collaborative partners in this endeavor is Mark Judson and the Southwest Louisiana Law Center. The SWLA Law Center is a non-profit law firm whose mission is to provide first rate legal services to the economically disadvantaged of the community.
"This is huge, with a lot of moving parts and dedicated people," said Judson. "District Attorney John DeRosier is to be commended for taking on such a wonderful project that will have a big impact in the lives of many in Calcasieu Parish. The Law Center is very proud and honored to be part of such a fantastic, marshaling of community resources."
Two other major contributors are the Clerk of Court and the Calcasieu Parish Sheriff's Office.
"We are pleased to be one of the many cooperating agencies working to make the Fresh Start Initiative a success," said Clerk of Court Lynn Jones. "The goal of helping citizens gain employment and better their opportunities is a worthy endeavor. An event like this one requires many hours of preparation and organizing from all agencies involved. The Clerk of Court team is no exception. They are going above and beyond to help serve our community."
"The Calcasieu Parish Sheriff's Office is pleased to participate in this program," says Sheriff Tony Mancuso. "Anytime we can help someone whose criminal history is preventing them from being gainfully employed is a win-win situation for everyone involved."
The main goal of this program is to help former offenders better themselves and, in turn, better the community as a whole.
"A lot of these offenders have a conviction(s) from ages 16-25 and are older now, planning for the future," said DeRosier. "They look back at that anchor they dropped several years ago and realize its weight and how it's preventing them from future developments. This program gives them the ability to obtain T.W.I.C. cards and hopefully obtain gainful employment. This gainful employment is what keeps people out of the criminal justice system."
While the program will help many citizens, there are many factors under the expungement law. Not all cases qualify. Generally, violent crimes and sexual crimes are not eligible to be expunged.
Other organizations that have contributed to this endeavor are listed below.
Adrienne Wheeler, Justice and Accountability Center of Louisiana

The Honorable G. Michael Canaday, and the Honorable Ron Ware, 14th Judicial District Court Judges

Carheel and Associates

The Honorable Jamie Bice, Lake Charles City Court

Paul Pettifer, The City Church

Clerk of Court, Lake Charles City Court

Louisiana State Police, Colonel Mike Edmonson

Iowa Police Department, Chief Keith Vincent

Sulphur Police Department, Chief Lewis Coats

DeQuincy Police Department, Chief Mike Suchanek

Vinton Police Department, Chief Ricky Fox

Westlake Police Department, Chief Chris Wilrye

Lake Charles Police Department, Chief Don Dixon
For more information on how to get an expungement, click here.