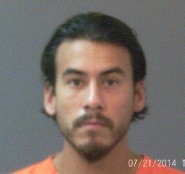 On December 15, 2015 Robert Anthony Moore, 30, pleaded guilty to one count of Molestation of a Juvenile with the victim being under 13-years-old. Judge Ron Ware sentenced him to 30 years in prison with the Louisiana Department of Corrections. The first 25 years will be served without the benefit of probation parole or suspension of sentence.
            The incident occurred on June 14, 2014. Moore was caught molesting a six-year-old female in a Sulphur home. He fled the scene but was apprehended shortly after the incident by officers with the Sulphur Police Department.
            Sergeant Mike Strother investigated the case for the Sulphur Police Department.
            Assistant District Attorney LaKetha Holmes handled the case for the Severe Child Abuse Division of the Calcasieu Parish District Attorney's Office.