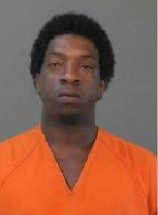 On July 16, 2015 a jury convicted Marlon Frank Thomas, 38, of Aggravated Battery, Attempted Armed Robbery, Attempted Armed Robbery with a firearm and Aggravated Burglary.
          After six hours of deliberation, the jury found Thomas guilty of entering a home on 6th Street in Lake Charles demanding money from the victim. Thomas and another man, Dionte Eugene Daugherty, were both masked and armed with guns when they entered the home. Several shots were fired, and the victim was struck in the back. Daugherty was previously convicted for the October 18, 2011 incident.
            Thomas is currently on parole for Manslaughter, and the Calcasieu Parish District Attorney's Office plans to file a Habitual Offender Bill.
            Judge Guy Bradberry ordered a presentence investigation to be conducted and set sentencing for October 2, 2015.
            Sergeant Franklin Fondel served as the lead detective on the case for the Lake Charles Police Department.
            Assistant District Attorney James Sudduth, III and Assistant District Attorney Lori Nunn prosecuted the case for the Calcasieu Parish District Attorney's Office.