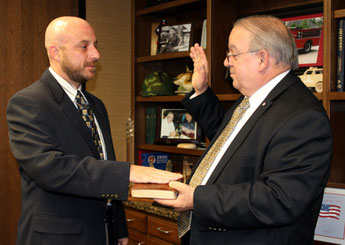 District Attorney John DeRosier recently swore in a new Assistant District Attorney.

Dustan J. Abshire is a lifelong Lake Charles resident and graduate of Barbe High School. Dustan began his career with the Calcasieu Parish Sheriff's Office after high school and stayed there for 15 years. He spent time in corrections, patrol and as a detective in the Sex Crimes/Severe Child Abuse Unit.

While at CPSO, Dustan obtained a Criminal Justice degree from McNeese State University and went on to graduate from the Mississippi College School of Law in Jackson, Miss. He received a Doctorate of Jurisprudence and a Civil Law Certificate. His career with the Calcasieu Parish District Attorney's Office began in June 2014 as an intern. Shortly after, Dustan became an investigator up until he was admitted to the Louisiana Bar in April 2015.

Dustan has been married for 14 years and has one son and two stepdaughters. He served on the USSSA Board for baseball from 2008-2011 and has been a member of the Knights of Columbus with Our Lady Queen of Heaven.

He will serve as an ADA in the misdemeanor section of the Calcasieu Parish District Attorney's Office.