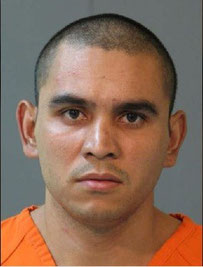 On February 20, 2015 Judge David Ritchie sentenced Jose Manuel Garcia-Guevara to two terms of life in prison plus an additional 30 years.
A jury convicted Garcia-Guevara of Aggravated Burglary, Aggravated Rape and Second Degree Murder on January 28, 2015. He will serve the life sentences on the Aggravated Rape and Second Degree Murder charges and 30 years in prison on the Aggravated Burglary. Judge Ritchie ordered all time to be served consecutively.
Garcia-Guevara was convicted of entering a neighbor's home through a window, raping and then murdering 26-year-old Wanda Barton. The incident took place in February 2008 in the Jesse James Trailer Park.
Following the murder, Garcia-Guevara fled to Dallas and then to Mexico. He surrendered in 2013, just months after being places on the Federal Bureau of Investigations' "Ten Most Wanted Fugitives" list.
Detective Mark Clark investigated the case for the Calcasieu Parish Sheriff's Office.
Assistant District Attorney Rick Bryant prosecuted the case for the Calcasieu Parish District Attorney's Office with the help of Assistant District Attorney Ross Murray.