District Attorney John DeRosier Honored by Louisiana State Police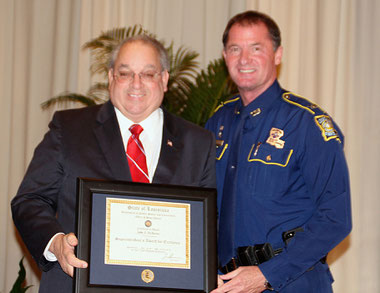 On Thursday, July 10, 2014, Louisiana State Police held an awards ceremony in Baton Rouge. The ceremony was held to honor State Troopers, public safety personnel from across Louisiana, and civilians.
Among those honored was Calcasieu Parish District Attorney John DeRosier. He received the Superintendent's Award for Excellence. According to Louisiana State Police, the Superintendent, Colonel Michael D. Edmonson, has the discretion to issue this award to individuals, sections or troops in recognition of outstanding performance or achievement. The award may also be conferred on individuals, companies, schools, or other entities apart from State Police. DeRosier was one of only 11 recipients statewide.