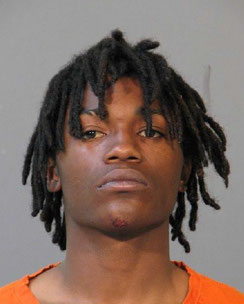 On July 2, 2014 a jury convicted Armonta Dquon Hadnot of three counts of First Degree Murder and three counts of Attempted First Degree Murder.
Hadnot was convicted of murdering David Jermaine Galmore, 23, Jermiskian Jovan Arvie, 20, and Fitzgerald Tremayne Guillory, 20, on March 20, 2013. Hadnot and another male subject robbed six men at gunpoint before opening fire and killing three of the victims. The incident occurred at McMillin Park in Lake Charles.
Judge Clayton Davis set sentencing for July 8, 2014 at 9 a.m.
Sergeant Franklin Fondel served as the lead detective on the case for the Lake Charles Police Department.
Assistant District Attorney David Kimball handled the case for the Calcasieu Parish District Attorney's Office with the help of Assistant District Attorney Christy Rhoades May.