Taylor Prejean, Lake Charles American Press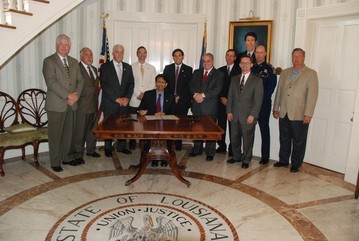 Calcasieu Parish District Attorney John DeRosier was present Tuesday when Gov. Bobby Jindal signed into law a measure making it easier for authorities to adapt to the ever-changing world of illegal drugs.
DeRosier said he worked on the bill with state Sen. Fred Mills, R-New Iberia, in an effort to keep up with people who modify the chemical compounds in drugs to avoid prosecution.
The Legislature organizes illegal drugs into schedules. In the past, lawmakers had to add a drug or substance to the list during the legislative session to make its use and manufacture illegal.  
DeRosier said people who make the drugs would then tweak the substances so they would no longer fit in any of the schedules. Then the new substances could not be outlawed until the next legislative session.
The new law gives the state health department the authority to add drugs to the schedules more quickly to act as a pre-emptive strike against such behavior.  
"We can react a lot faster to immediate changes in the chemical composition of illegal substances," DeRosier said. "Right   now we're more concerned with synthetic marijuanas, synthetic cannabinoids and synthetic amphetamines."
DeRosier said those substances are particularly troublesome because they can be much more dangerous than other drugs, primarily because their ingredients can vary widely.
"You can buy five packages of these substances at convenience stores, test them and many will have different makeups," he said.
He said that once health officials add a substance to a schedule, it becomes prosecutable until the end of the next legislative session.   Legislators can then choose to keep the substance on the list, making the addition permanent.
DeRosier said it is essential to try to keep drugs under control, since about 50 percent of impaired driving cases stem from use of drugs rather than alcohol.
---