Posts tagged with "Armonta"
---
08. July 2014
On July 8, 2014 Judge Clayton Davis sentenced Armonta Dquon Hadnot to three consecutive life sentences and an additional 150 years with the Louisiana Department of Corrections. Hadnot received the mandatory life sentence on three counts of first degree murder after being convicted on July 2. Judge Davis order Hadnot to serve the maximum 50 year sentence on each count of attempted first degree murder he was also convicted of on July 2. All sentences are to run consecutively to each other, at...
02. July 2014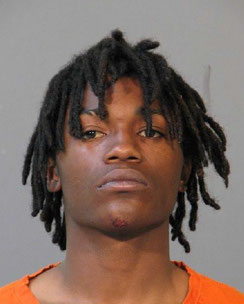 On July 2, 2014 a jury convicted Armonta Dquon Hadnot of three counts of First Degree Murder and three counts of Attempted First Degree Murder. Hadnot was convicted of murdering David Jermaine Galmore, 23, Jermiskian Jovan Arvie, 20, and Fitzgerald Tremayne Guillory, 20, on March 20, 2013. Hadnot and another male subject robbed six men at gunpoint before opening fire and killing three of the victims. The incident occurred at McMillin Park in Lake Charles. Judge Clayton Davis set sentencing for...